Spreewald 2010
Well its departure day if not yet the hour and i'm sat waiting impatiently for 'D' hour. Its been a sometimes rocky journey to get to this point but in the end things have fallen fairly neatly into place. In the last couple of hours i've managed to finalize my kit, seemingly tons of cycling togs but you have to be prepared. My non bike kit would easily all go into my back pack and that includes the camera and lappy.
So the taxi should be here for 02.15 then its down into town for the Airport coach at 02.40 which gets me to East Midlands for 04.00. then i have to collect my currency, check my bag and get through security for the 06.15 departure. If things go to order there's plenty of time and i'll be in Berlin about 08.30 - well that's the plan at least.
Well its twenty to five and i'm not only at East Midlands but i've had a cuppa, collected my currency, checked my bag and got through security! The taxi was right on time and with no traffic around deposited me in the bus station with ten minutes clear before the next leg was due to start. It wasn't exactly cheap, £9.20, but how else could i get there at this time of day? A quick load onto the nearly empty coach and we were away on schedule and heading south. We were due in at 04.00 but a little after 03.50 i was in the terminal building!
The biggest 'problem' at this point was that neither the currency exchange nor the check in were yet open so i spent some of my meager supply of ready cash on a too large cup of tea. It was the first time using the Travelex method of currency buying and i have to say i was a little nervous buying on line and collecting here at the airport. I needn't have been, it worked flawlessly and i got a good rate too. That sorted and next stop was the check in where i was sorted as quick as ever, virtually straight to the counter and two minutes later i was off to security.
Due to the time as much as anything security was painless too, i'm not sure what taking a swab off the lappy is supposed to prove - something for the chaps today i guess. Which brings us up to the present, there are still 45 minutes before the gate closes and a further thirty until departure so i guess i'll just chill for a while.
The flight departed somewhen close to time and we touched down in Berlin a smidg before nine local time. By the time i reached the rail station i had missed the first connection into Berlin so i had to endure a thirty minute wait for the next train. Berlin greeted me with overcast and cool conditions and on my short walk round also managed a few drops of rain. With fatigue setting in i grabbed a bowl of pretty good asparagus soup in the Karstadt before heading back to the Zoobahnhof where my case was waiting. A quick check of the board and a little bit of haste and lo, i'm here on the 11.58 to Cottbus. I supposedly can't check in until 14.00 but it won't be much delay by the time i walk from Lubbenau Hbf into the old town and find the hotel. Then its a quick feet up before heading out to pick up the bike in Cottbus. By George i'll sleep tonight!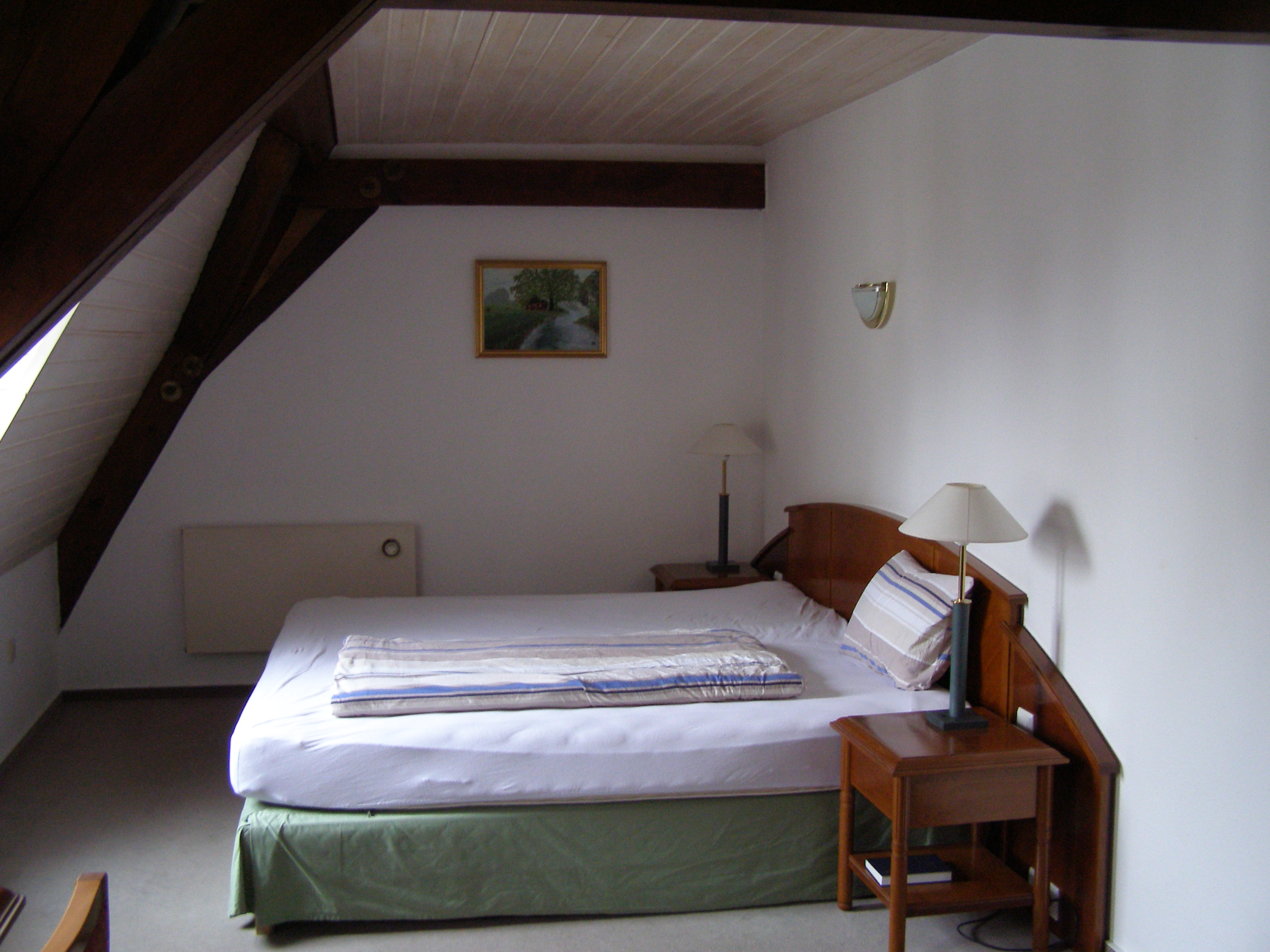 Just coming up to 15.00 and i'm installed in great splendour at the Lausitzerhof. I say splendour, i've got a spacious attic room with a double - well king size bed - in fact the room is nearly as big as my flat! The train ride from Berlin had me catching if not forty at least a few winks on the way down then as i couldn't check straight in i purchased some 'lunch' at the local bakery so even if i am sleep deprived i've put in a few calories. The weather still can't make its mind up, on reflection much like last year and the year before!
Its just coming up towards nine and the end of my first day in Germany. A bit of delay getting to Cottbus and a long walk across town meant that it was gone six by a way before i was granted custody of this years mount. A measly €90 has procured a 2010 Bianchi Nirone C2C running 10 speed Campagnolo, pretty much the same as last years steed. My energy levels being low and the weather being a bit iffy i decided to use the train to get back to Lubbenau too. I set off to buy dinner but when it came to it i couldn't be bothered so i just had the walk. Just as well really as i literally fell asleep at 21.00.
Its amazing what a few hours, well ten, of sleep can do, i was certainly feeling a lot perkier by the time i crawled from my covers. today, that's day two, has always been the bike acclimatization day and as such the programme was intentionally light. Half an hour of tinkering with the bike - fitting the race guards and seat pack then another fifteen getting myself sorted out and i was good to go.
First stop was the tourist info to pick up a map - guess who left his at home in Blighty? then i really was off heading for Luckau which lies just south of west from my HQ. The odd spot of rain when i set off developed into a more persistent drizzle by the time i reached my destination. On a more pleasant day i'm sure the place has a lot to offer, it certainly has some interesting buildings, but the wet was the thing so i decided to push on.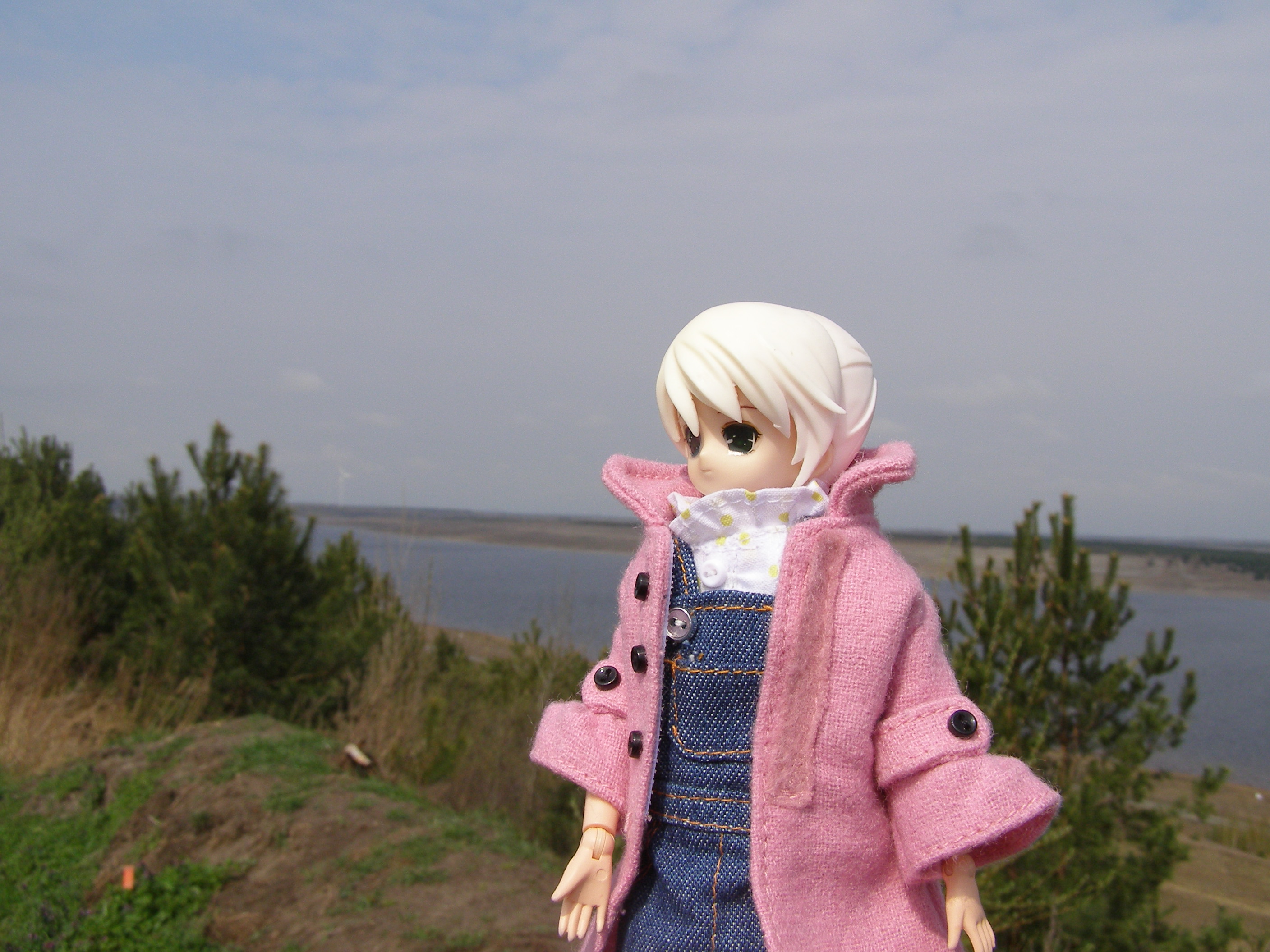 Calau some 24km south east was next up although a brief stop in Schlabendorf on the way proved more photogenic! With nothing to keep me there and a stomach starting to think about food, my food finder went into action and the wheels turned north to eventually land me at Slawenburg Raddusch. If you read about last years trip you'll recognise the name but for those who don't or haven't its a reconstructed Slavic fortified farm. Apart from the excellent museum your €4,50 gets you access to some plain but reasonably priced grub too! I settled on the classic schnitzel mit pommes which with a drink set me back €7,20. As the only patron it turned up fresh and quickly and the following visit to the exhibition was blissfully relaxed.
What next - i toyed with extending my ride but to be honest i couldn't see how it would assist my preparations so i headed back to the digs for a welcome shower. Did i mention that by Calau the rain pretty much gave up? No, well it has stayed dry ever since so i hope that's a good sign. But i digress, it was too early to stay put so i decided on a trip up to Lubben on the train, low cost excursion, well €2 each way. I had intended to eat up there but changed my mind and by 18.30 was once again back at the Lausitzerhof. Tonight i am going to eat and eat i will! Total km for the day 64.
This time last night i was already asleep and whilst i'm not quite ready to hit the sack i don't expect to be a lot longer. I have at least eaten - a hearty meal of tomato soup followed by pork steak with fried potato and veggies. I settled on a place i used one night last year, Zur alten Muhle, good food and the prices are fair, even so i spent a budget busting €17,20 - and there's no beer in with that!
Day three and what a weird day! I set out with a plan and of course i managed to muck up but what happened? Well i set off along the river to Lubben and it was only as i left to head for Straupitz that i realised i was missing my energy drink for after the time trial. A quick look at the map confirmed a short cut back to the hotel, i had oodles of time so i headed back to whence i came. Two hours give or take after my first departure and i was off again this time by a different route that would take me up the course.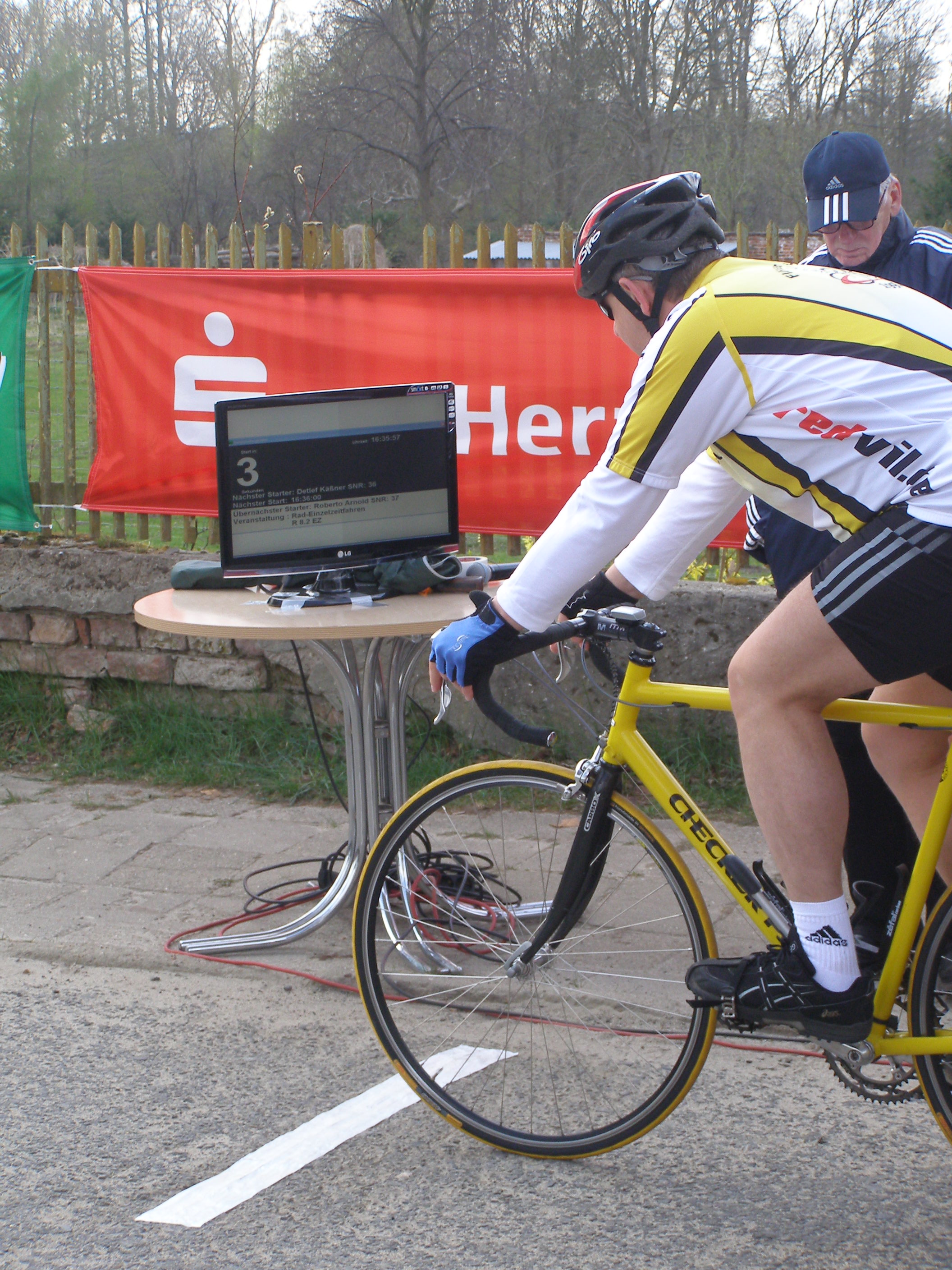 The course turned out to be everything i expected except it was newly surfaced and nearly 2km shorter! The surface was excellent and the drop in length - well the strong crosswind will play a part i'm sure. At the check in i was supposed to pay for and collect a t shirt i ordered but no such garment was to be had. They reckon it will be posted to me - i paid on that basis but if i ever see it... the other thing that needed paying for is the transponder that will be used for timing but at least most of the €25 i get back after.
I was still well early so i had a quick visit to the sites of Straupitz, had a bratwurst, a couple of warm up rides then it was time to do the deed. You were numbered by entry time so my #2 indicates my keenness last year! It was all very professional timing wise, no stopwatches to be seen, a proper electronic countdown and i was off. 8.4km and 13 mins 45 secs later i was the first to receive an adult 'radgurken' for 2010. It was a weird experience, on one hand it was like going back in time some 20 years, in others it was like a cross between the Olympics and a donkey derby! Kids on mountain bikes to internationals on the latest state of the art carbon monsters, all rode and took it equally seriously.
Afterwards i hung about to watch the start/finish stuff, before i knew it i had been there two hours and at the very least i had another 20km to get back to Lubbenau. The plan was to check in for tomorrows big event, i set off into the setting sun and a headwind, luck was with me as i arrived at the kontrolle with 30 min's to spare. With a tale wind the last few km of the day passed quickly and by 20.30 i was showered and ready to dine.
Just a few metres from my temporary abode i found the Ebusch open so i gave it a try. The food was unexceptional which just means it was not outstanding but still eatable and for second time just shy of £18.00. So time for bed, the big event is under nine hours away! kilometres for the day - 91.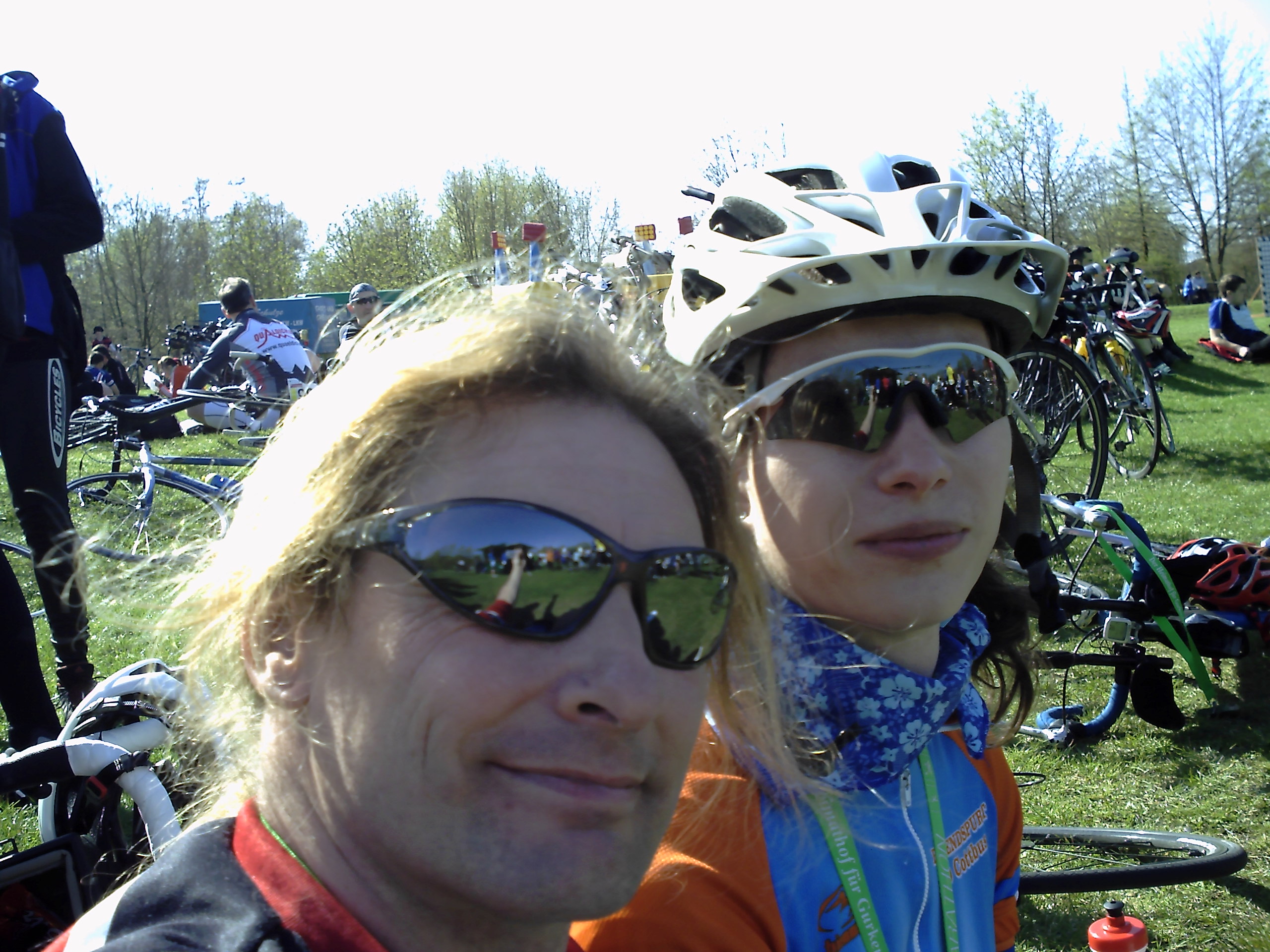 Saturday and its five o'clock. what's so significant about that? Well lets just say i finished at 14,30, i've eaten, drunk beer and ridden back to the hotel! The big yay there is a finish a full thirty minutes earlier than last year despite dying over the last ten km. But lets rollback the clock to this morning.
As planned i rose at six and got the bahnhof with a bit of time to spare for the 06.40 going north. Its only one stop so by 06.55 i was sat having breakfast in a bakery in Lubben, i should probably have had more than a coffee and cake but to be honest i didn't feel that hungry. It was bright, sunny even but there was frost on the start field so i kept myself covered up until a few minutes before the off.
Being on my lonesome i managed to get a fairly decent start position, much better than last year, which was born out on the road as i found myself in a large fast moving group, most of the 'traffic' having missed the front. This was part of my master plan after last years 50km chase to reach the front group, here i was already in it within 2km. Like last year i did a stamp and go, tagging on to some like minded souls a short distance out, a longer stop at point two being the carrot.
The new loop here was pretty easy and we made control 2 in little more than 30 minutes. Somehow i missed the departure of my companions which resulted in quite a long solo effort before another train came through. Once it did the pace picked up a bit and in no time control 3 was reached. This was at Straupitz where the TT was held yesterday, i spent much less time there today, stamp the card and away.
Only the mad 200km riders get to do the next bit, the loop round to Lieberose and back to Burg. After a short solo bit i got on with another couple running close enough to my pace, by the control we had gained a couple more. This was the long stop for everyone myself included, bit of food, refill bidons etc. then we were off again and sod it, i missed the train again. This next leg is horrible -its long, contains most of the climbing and is on wide fast road for the most part. Although i shared pace for a while with a couple of other tortured souls we were half way through the leg before the next train caught us and gave some relief from the stiff headwind.
At Burg, which usually hosts a control, we started picking up the shorties, twenty 200km riders literally sweeping past those doing 150, 115 or even less. By the new halt at Raddusch the road was littered with riders, i decided to do a stop and go and covered about 3km before 'my' train caught me. By this time i was starting to suffer so when we hit a crap road surface a short distance on i got shelled. Not the end of the world, there was maybe 10km left so i concentrated on keeping up a steady if not exactly fast pace.
This last bit of headwind really did for me but eventually we hit Lubben and there on Schloss Insel was...a huge queue! I used the 'express' method of reaching the front where i was presented with my third golden gurken and second gurken of the weekend. I checked the clock, no can't be right, but it is! 14.30 it really is, exactly my target for this year, i'm guessing but that's about six hours ten ride time which is about 33kph average! Well i was chuffed so i celebrated with soup and beer while i waited for Leonie to arrive some hour and fifty km less later. So its over, the 8th Spreewald Radmarathon, its very tempting to enter again when i get home for 2011, after all i'm sure six hours is quite doable even by a sluggard like me - we'll see.
Leonie joined me for the ride back to the hotel then after showering we headed off to eat. Now at this point last year i could barely keep my eyes open but today i don't feel too bad, sore knees and bum but otherwise not so bad at all. That's not to say i wasn't tired, i did drop off about 22.00 but there again i had done 215km!
After yesterdays exertions today was about a more gentle time with a bit of sight seeing. I had a plan but things didn't start well as i missed my train to Senftenberg by a few minutes - not a good start as it put me an hour behind. Still, the sun was shining once more and the 50km or so of riding it saved was well worth it. The bad news was that my 'good' knee was offering uncommon pain, i hope it isn't more than a strain.
Senftenberg doesn't really offer very much on a Sunday so i headed west to Schipkau then looped south around what will become the Bergheider See then back north to Lichterfeld where my destination stands.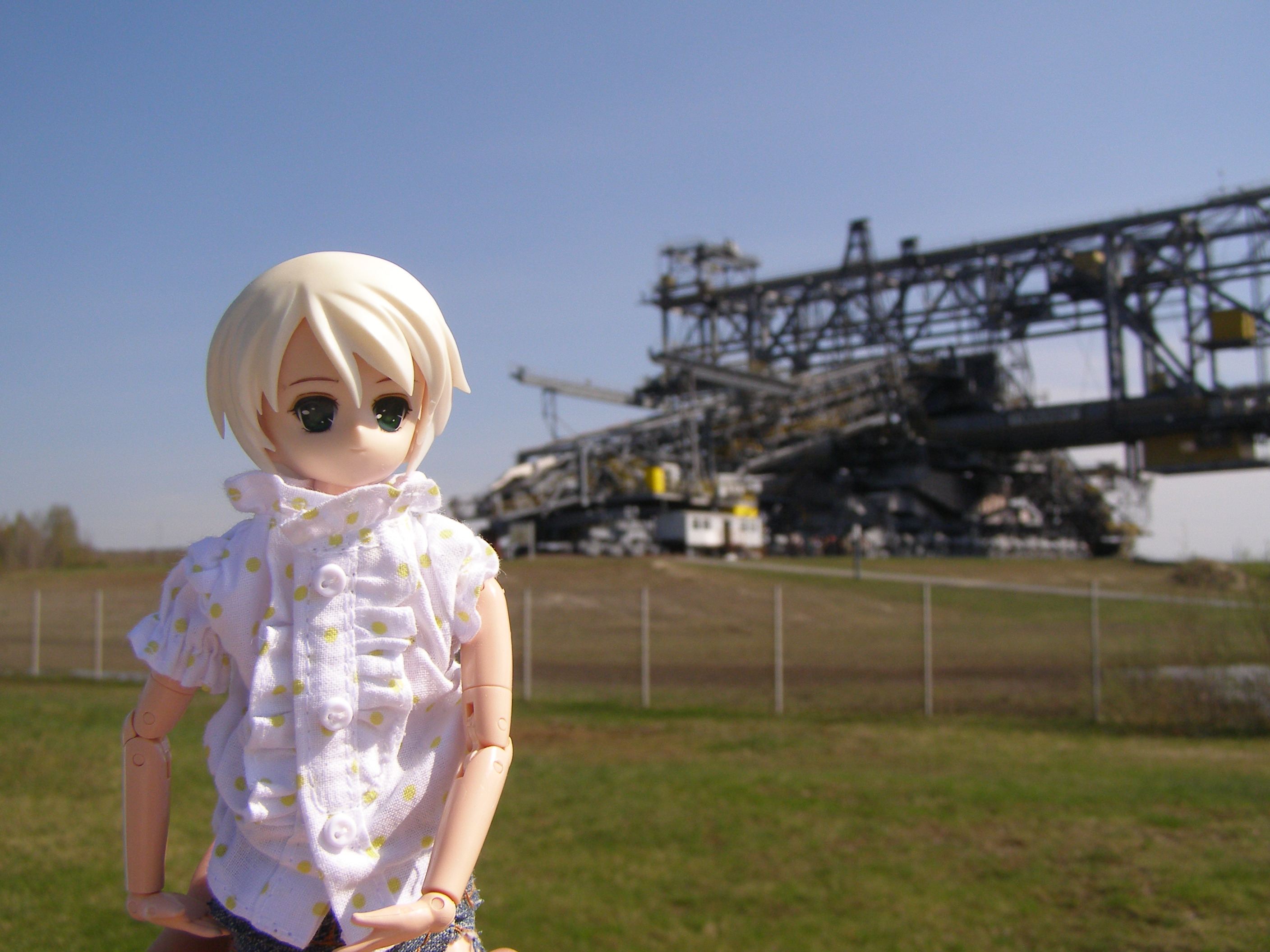 The F60 is the largest mobile machine on the planet, a huge conveyer bridge for removing overburden in the huge brown coal opencast mines. only built in 1991 by 1998 the local village had bought it and in 2002 it opened to the public. at half a kilometre long and a high point around 80m its difficult to miss, so i paid my €8 and after a short wait whilst i had lunch, i joined the tour. (I got a free english translation via a unit much better than EH use!) The tour was long, about an hour and a half during which you climb to the highest point and back with various stops for information. This is industrial archaeology on a huge scale, its so not a museum and the unique use of real industrial equipment for the toilets and visitor centre are a sure fire winner.
To be honest my bum was still aching so that coloured the rest of the day, well that and the fact it was nigh on 15.00 when i departed the bridge. I fancied a look at Finsterwalde so i took the road west. Quite a pleasant little town, lively even on a Sunday afternoon with some nice old buildings. Then it was pretty much as Lindisfarne would say, Run For Home. I found a nice route through forests, by lakes and generally with little traffic so i was actually back in Lubbenau a little after 17.00. The knee hasn't been too bad although it still aches a fair bit but its not stopped me doing anything.
After a shower and change it was time to head out to eat, my first choice was closed so i settled on the Cafe Fontane where my pasta curry and drinks came to a paltry €13,40. kilometres for the day - 76
Monday and my last full day with a bike and in Lubbenau. Before i go on about today's ride i ought to fill in on what's been happening elsewhere. Apparently there was a volcanic explosion in Iceland about Friday and they grounded all flights in UK airspace as a 'precaution'. Overnight i was thinking through my options for getting home but the good news as i set off this morning is that tonight flights can resume and fingers crossed, my flight on Wednesday should be unaffected. Having no internet here means i'm completely out of the loop, i only have this information in texts from the UK!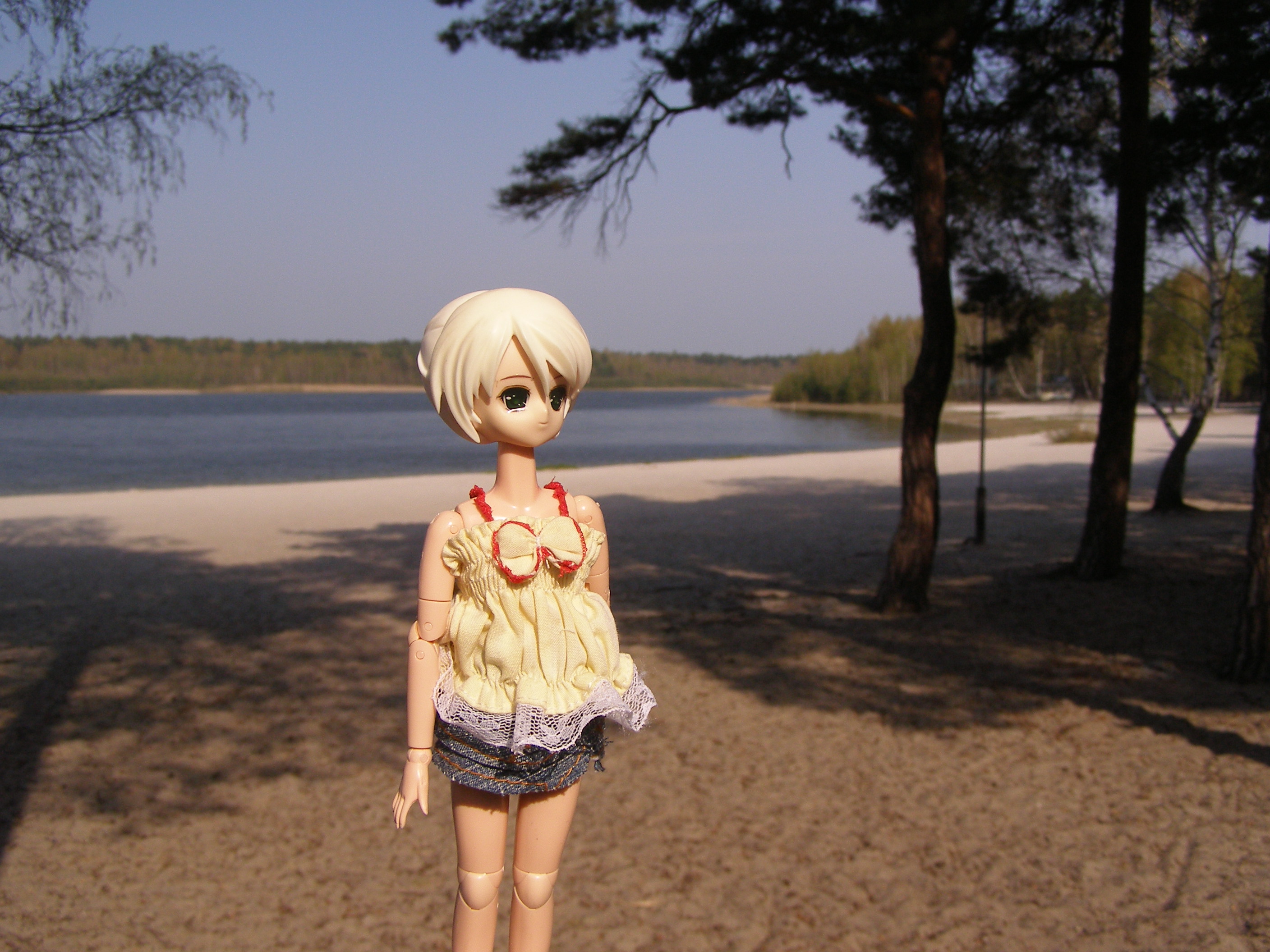 Anyhow the plan for today was to head north, a ride i wanted to do last year but this year the weather looked good and i'd got the time. The object of the trip was to visit Beeskow then the plan was to head back down to Cottbus to meat with Leonie and hand back the bike. My route switched back and forth quite a bit but the fifty kilometres or so were done in about two and a half hours, plenty of time for a look round. On the positive side there is a good chunk of town wall to follow although the Burg is not very photogenic. On the down side the place seems to have had all the character expunged from it, pleasant but forgettable. There being no real reason to keep me there i started south for my next target, Lieberose the site of the exclusive 200km event control on Saturday.
I took the back roads as far as possible stopping briefly for a coffee and bun at Friedland. Then it was but another twenty or so km to Lieberose, the first time i've been there without being in the Radmarathon. I guess i haven't missed much although there were a few more bodies about than on Saturday. From here the plan was to go down to Pietze then onto Cottbus but it was not long gone one, i didn't need to be in Cottbus until five. So i went to plan B, head back to Lubbenau, get showered and changed then possibly ride or get the train to Cottbus.
So that's what i did, across to Straupitz then down to Burg and finally through Raddusch and back to Lubbenau. I had about thirty minutes before the train was due so it was a hasty removal of my bits from the bike, quick shower, pack bag and off. Somehow i got to the station with over ten minutes in hand but that was no issue! Hand over complete, Leonie took me to see her office at the university then we took a walk up into the town where we said our goodbyes.
I'd kinda been expecting to go eat with her so i was now at a bit of a loose end. I did the sightseeing last year and its not like there's much open after six anyhow so i just wandered the shops a bit and when i spotted a pleasant eaterie i decided to eat in Cottbus rather than wait till Lubbenau. Somehow i managed to dine for just €7,70! That included a large beer, so okay it was only spicy potato soup but it wasn't a stingy portion so i was very happy. Then it was the long walk to the bahnhof where my train was waiting and by 19.40 i was back in Lubbenau.
So that as they say, is that. Tomorrow i head up to Berlin for the day and leave the Spreewald behind for another year - maybe. Kilometres for the day 130.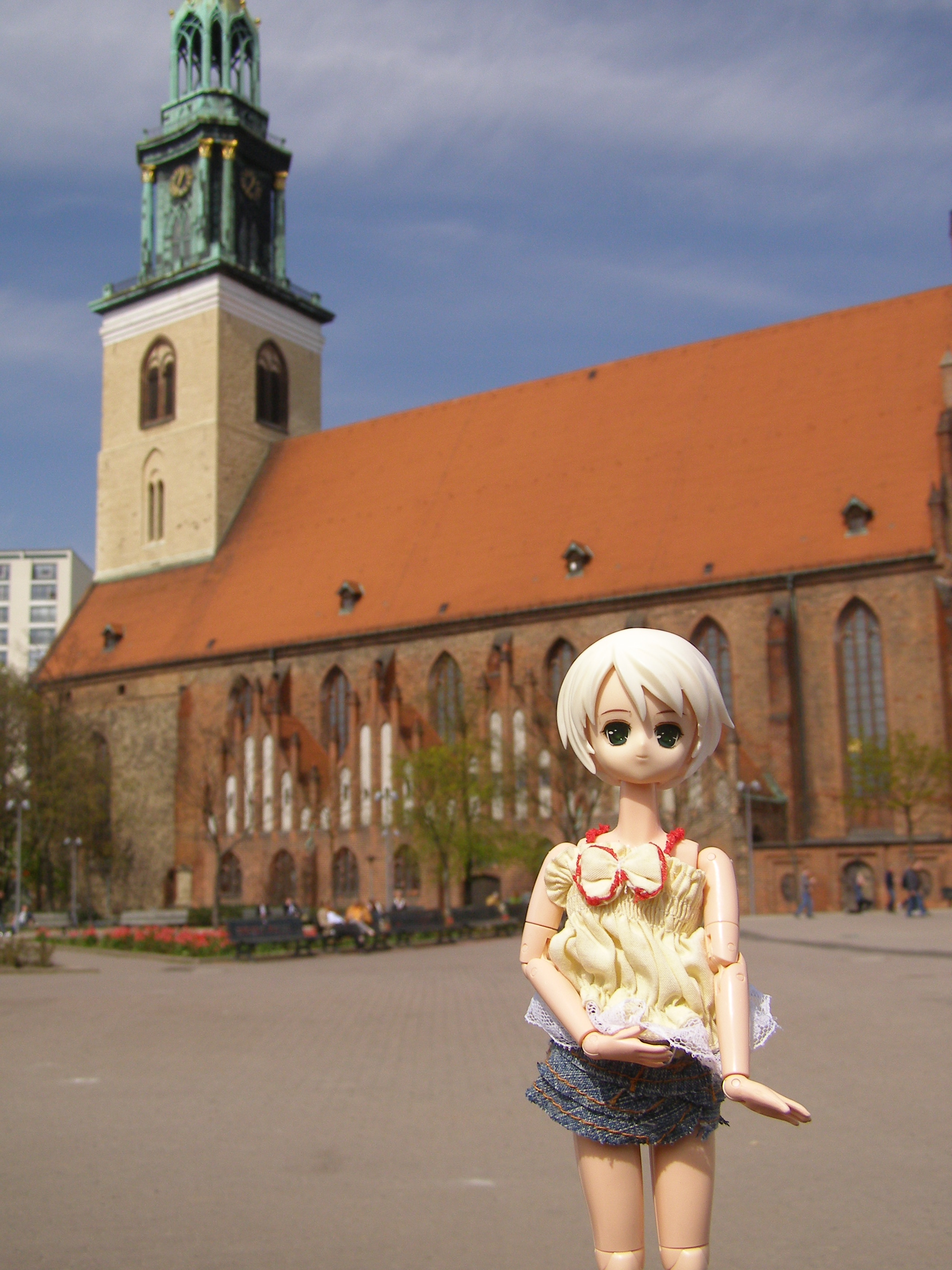 The news from home overnight was not good - more damned volcanic ash likely to ground flights! So now my plans for the day are all over the place with a constant unknown of how i'm gonna get home and when. My back up position was to get the coach to London and so that was my first destination once i dropped my case, see if i could get a seat. Not a flippin' chance! the earliest available is next Wednesday - not really much use. So once again its back to plan A, the only thing now is that whilst i have a bit of money at my disposal its not a lot and certainly won't stretch very far if i did as originally planned. That meant that my activities for the day were seriously curtailed, no self indulgent shopping, no visits to anything and even eating has been put on hold. (i'll get some supplies from a supermarket so i don't starve but no nice food or beer.)
I decided to quit early and find my hotel, the Pension Schwalbenweg close to the airport. I know its cheap and to be fair its clean but there's no en suite and i'm sure in a former life it was a workers hostel! still its not like my budget would run to more and it is near the airport. Its just gone five thirty and all i can really do is wait for news from home and keep my fingers crossed. If things go pear shaped i've no idea what i'm gonna do, there has been mention of up to four days disruption.
Nearly eleven o'clock and i know i won't be flying in the morning, when i visited the airport earlier looking for information it was nigh on shut and ironically the only flight due in and not cancelled was from Iceland - Grrrrrr! So on to plan C, forget planes (of course), the coaches are all booked out which leaves trains.You don't need the whole story but the main point is that i get a train to Rotterdam and i have a birth on Thursdays sailing to Hull. Not the cheapest route home but unless all the trains are full i get home Friday morning.
I have to say that its a big weight off my mind and hopefully i can sleep ok tonight and my evening trip up into Berlin wasn't bad either!
Its a little after 7.00pm and i'm tearing across eastern Germany at a fair old rate, destination Rotterdam. Well i had to check the airport this morning but Ryan Air remained stubbornly cancelled so it was definitely on to plan C. There were a couple of things to sort out and none could be done straight away so i had a couple of stressful hours before i could even get the ball rolling. So internet cafe to print off my sailing details then i needed to wait for the money to be sent before i could settle on a train for the journey.
I struck gold there, although i've got several changes i get to Rotterdam at 9.00am - i could have got there with fewer changes, less cost and quicker but i'd have to pay out for a bed somewhere. So overall its a win situation, i get to kill 6 hours in Rotterdam tomorrow but that's not the worst thing to have to do.
Although i couldn't be as extravagant as i would have liked i did eventually spoil myself a little in Berlin, and even managed to fit in some curry wurst! Well i've no way of topping the battery up on the lappy until at least the boat so i'll keep this short for now.
Friday 10.00am and i'm finally on english soil! Well i've been here nearly two hours but more of that later. So lets go back to Wednesday and the train from Berlin which was pretty much on time and deposited me in Munster a little before 22.30 and here is where i mucked up really. If i had read the timetable properly i would have realised there was a six and a half hour lay over for my connection! Its just as well there was a waiting room even if it was unheated and without a door. That's one night i do not want to repeat but i learnt one thing - the cheapest coffee in Germany is in the station vending machines at just €0.50!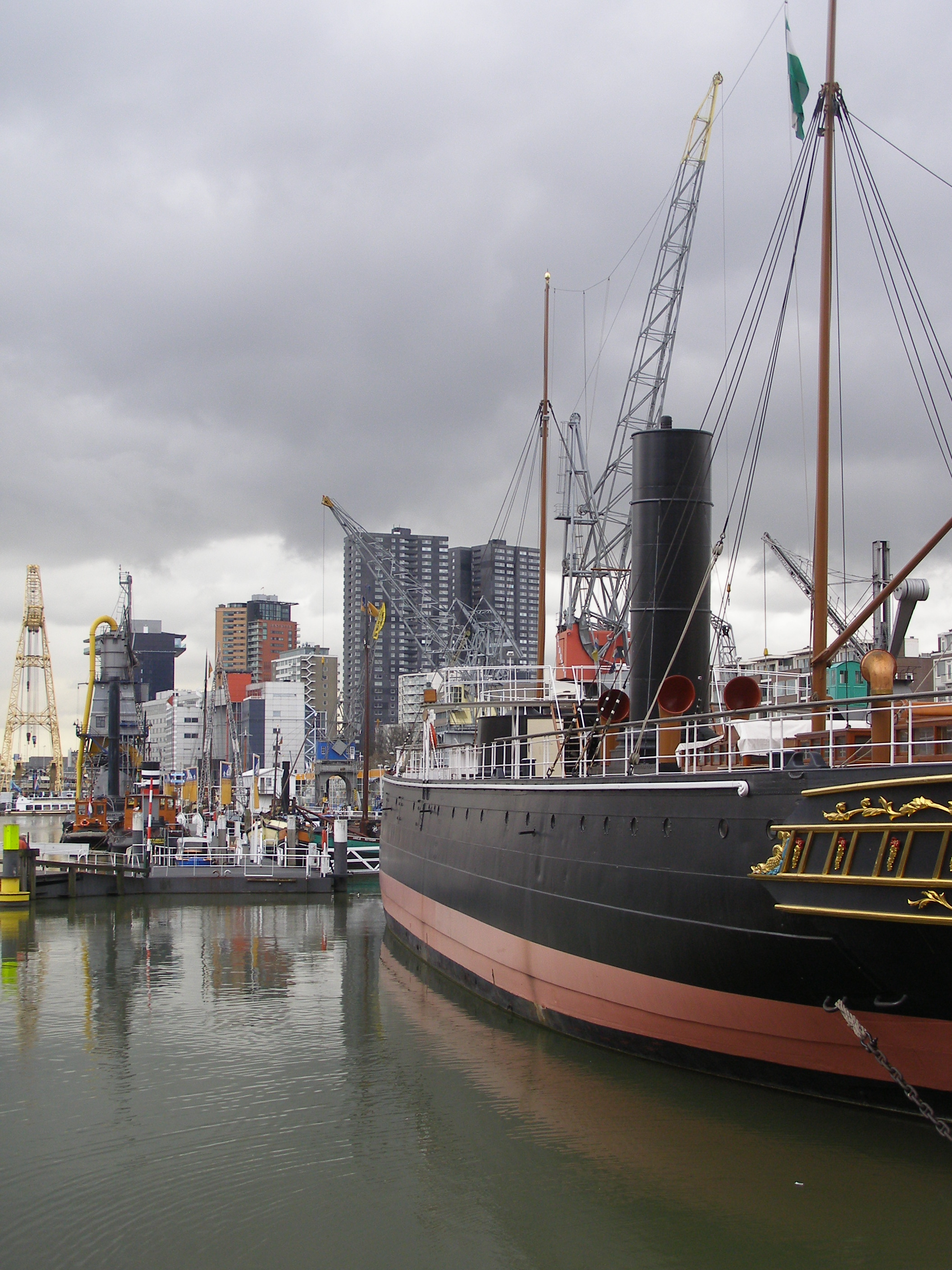 So anyway the next leg was a little over an hour across the border into Enschede where i joined the commuter rush on the Dutch intercity to Utrecht then transferred again for the final leg into Rotterdam arriving just before nine. Now what to do? Not really having any disposable income made it worse so after a cup of tea i headed into the city and spent a couple of hours doing free stuff - window shopping, checking out the 'sights' - well you get the drift. I ended up just killing time waiting for the bus to the port.
A pleasant surprise, the coach was new and only cost €6 which wasn't bad for the forty minute drive. Into the reception, check in, through security and by 18.00 i was in my cabin. Not having a meal booked meant looking for my options, i had just enough Euros to book for a buffet meal so that's what i did. These ferries are famed for the food package and although not cheap my 8 courses were well worth the expense. My intention was to go and get a beer afterwards but back in the cabin i simply dropped off!
That returns us to this morning. I was roused from my slumbers by an announcement for breakfast so i headed down for more food. They really do feed you well so a full English and plenty of coffee set me up for the day. By now we were already moored so it was time to collect my belongings to start the last leg. Off the boat, by ten past eight i was sat on the bus - and sat, and sat.Well thirty minutes later we set off and guess what, i missed the train i wanted by about ten minutes! grrr. So here i am just about home after a nightmare couple of days - bloody Iceland!
April 2010